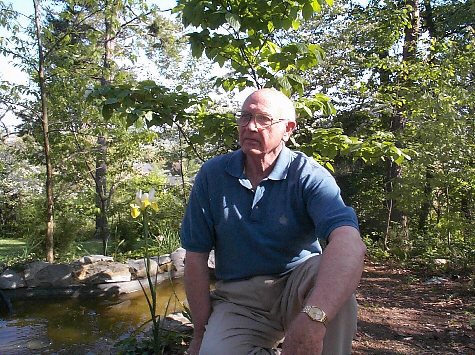 Just Sitting Here Thinking
Essays and thoughts of Rev. J. Vance Eastridge
Everyone needs a 'Walden'...
Remembering a brother on Memorial Day
in Mountain City, Tennessee
Remembering old automobiles and friends
"a little bit of heaven spilled over"
Reminiscence in a garden
blooming in unlikely places
What is on your forehead?
a Valentine's Day thought
a reflection on time
a realistic crèche in words
a Christmas sermon
Son Brad makes the observation, "Words don't make gravy."
While the parched earth thirsts for rain, a soul thirsts for God.
On Brad's first procession as acolyte.
False promises have consequences.
A new Christmas tradition is born at the Eastridge's house.
A Christmas Meditation.

Poems written by J. Vance Eastridge
"Like stepping stones in mountain streams"
Can life be shaped?
A defiant poem penned when hospitalized for heart symptoms in the 1960's
Morning thought
Mailto: J.Vance Eastridge at vance (at symbol) eastridges (dot) com